Schools partnership becomes responsive to their users with responsive website and refreshed branding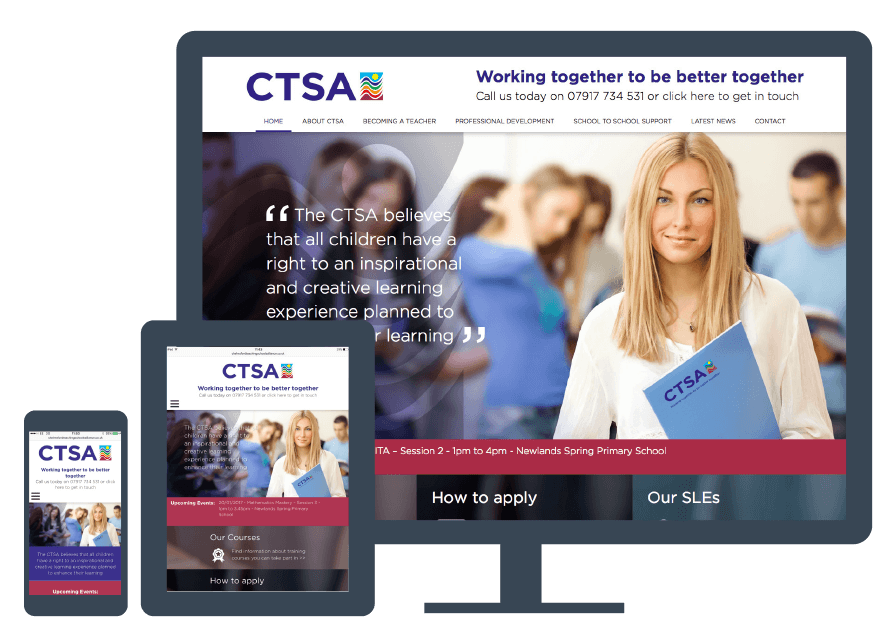 Background:
The Chelmsford Schools Partnership was established in March 2013 when Newlands Spring Primary School Academy Trust became a National Teaching School. Their aim is to provide a range of services to support staff, governors and schools and they realised that a new Essex mobile-friendly website was the best way to communicate this to a wider audience, especially in today's media-savvy culture.
The former website was not responsive and didn't engage the end-user, nor did it allow for an easy way of booking courses or training online. Create2Convert was tasked with revolutionising the design and build, starting from scratch to build a new website which captured the attention of visitors and facilitated an online booking function.
Potential problems:
With the large amount of content hosted at the address, there was potential for the site to become over-complicated and hard to navigate. Create2Convert were also posed with the issue of ensuring the website wasn't "too dry" in terms of its design, while still exhibiting a professional look in keeping with that of a respected educational institution.
Essex responsive websites:
Create2Convert initially designed website interface solutions and the client chose an interface with an infinity scroll home page. This enables visitors to see an overview of what the CTSA does without getting lost in the content of the website. The new Essex mobile-friendly website allows for the end-user to engage with the website with ease by being better informed about what is going on with news, initiatives and events.
The CTSA's brand identity was redesigned and we replaced the fonts to bring it more up to date. A high emphasis was placed on activities in order to strengthen the CTSA's alliance with schools through a credible online presence.
Conclusion:
The CTSA professed themselves to be very satisfied with the new website design, which has drawn compliments from visitors and acts as an information hub that they are proud to present to stakeholders, as well as those interested in learning more about the organisation.