Mobile Friendly Website for Electrical Contractor & Data Solutions Specialist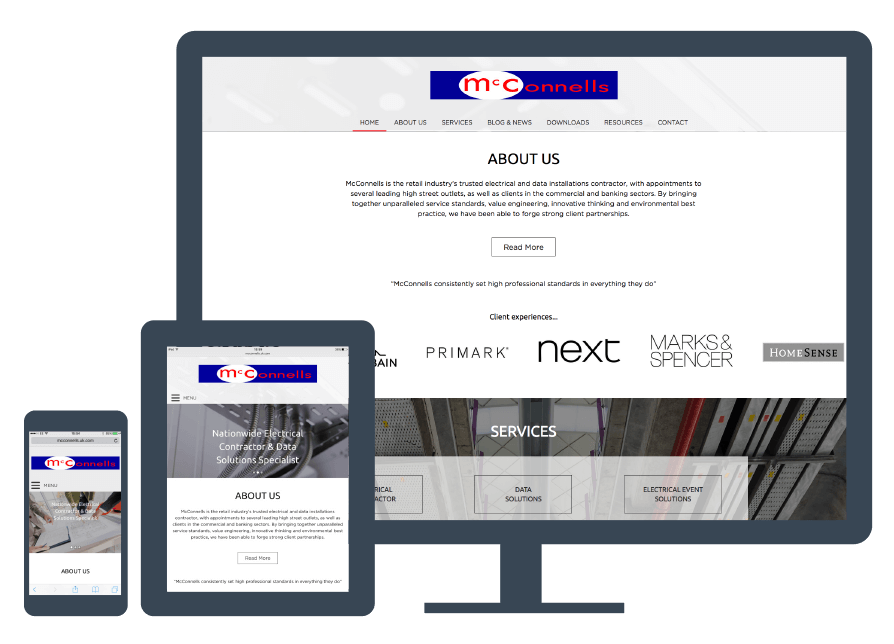 We are proud to unveil the new mobile-friendly website for McConnells, Nationwide Electrical contractors and Data Solutions specialists, designed and developed by Create2Convert's digital experts. The new online home for McConnells is befitting of their position as the retail and commercial sectors' trusted electrical contractor, and is in line with the fantastic websites operated by our clients; from high street brands to financial organisations.
Aside from "looking great" and ticking the box when it comes to an adaptable design for mobile phones, tablets and your desktop, the new site will be even easier to navigate, providing clear pathways for existing and prospective clients. With a greater emphasis on striking imagery and examples of their work, the website address now gives them much more of an opportunity to open up 'McConnells World', providing a more informative and engaging experience for visitors.
As you would expect, their key service offerings are laid out clearly, with accompanying images, along with a detailed page that tells you about McConnells the brand, our heritage within the electrical industry, and the types of businesses we typically work with.
A Blogs and News section introduces a whole new series of content, including industry updates, views from expert bloggers, details of our latest projects, as well as the latest services that will benefit customers. The client's aim was to provide a one-stop-shop for all their prospects' electrical installation needs, and as such the Resources section provides links to key trade organisations and industry watchdogs throughout the UK. Meanwhile, the Downloads section will ensure that visitors have a full catalogue of available services at their disposal from wherever they have internet access.