School prospectus and website design provides insight for parents into primary school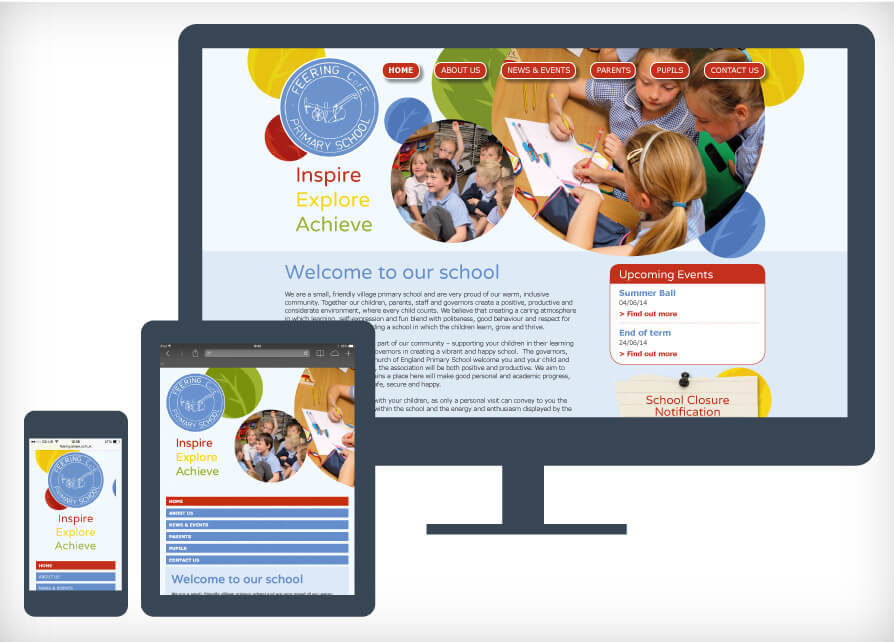 We recently completed the School prospectus and website design for an Essex Based primary school. The school is a small, friendly village primary school that is proud of their warm, inclusive community. They believe in creating a caring atmosphere in which learning, self-expression and fun blend with politeness, good behaviour and respect for one another.
The School's problem:
The school's website was outdated, hosted off-site and not user-friendly, which meant that parents rarely used it and communication was a problem within the school's community. The school had no prospectus and so was limited in its ability to attract admissions. In addition, budgets were extremely tight.
Our solution:
Working in partnership with the school leadership and governors, we developed a new responsive website design that adapts to the visitors screen size, be it on a mobile, a tablet or on a desktop computer. The website has a full content management system so the school can manage and update the content – they can't break the site however as we have used fixed stylesheets. We provided photography to capture the many benefits and positive aspects of the school. We designed and created their school prospectus to effectively communicate the unique benefits of the school to future parents. We delivered all of the above to deadline and within budget and we continue to offer ongoing support.
Results:
The school now has an enviable looking school prospectus and website design that is easy for the school to manage and the parents to navigate and find content that is of use to them. The website attracts more visitors and allows prospective parents to understand the values of the school. The prospectus was produced and circulated in advance of the admissions deadline, enabling more parents to choose the school which now has a waiting list for placements.