Essex Digital Marketing for Data Solutions Company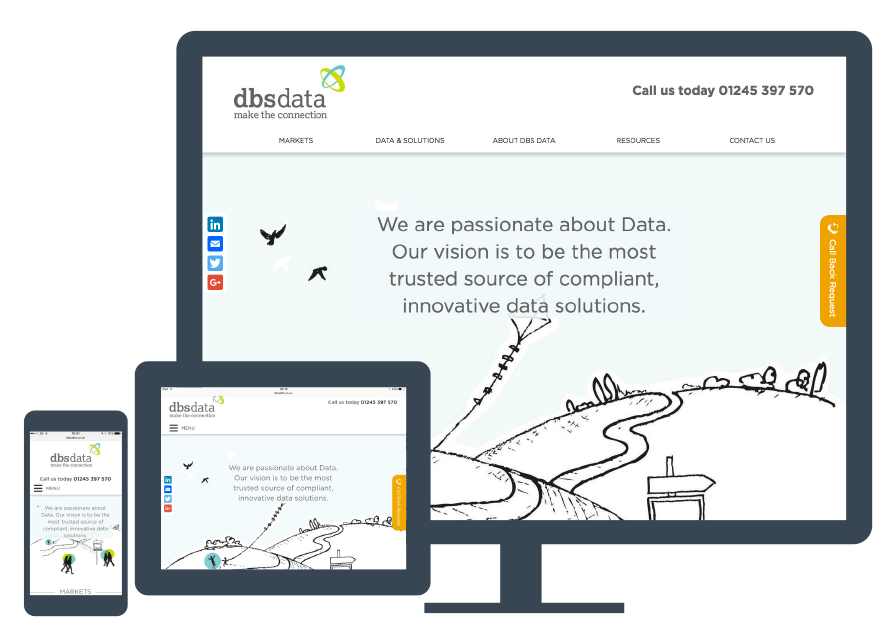 "Love working with Exubra, very responsive and creatively they punch way above their weight!

"

Adam Williams, DBS Data
Background:
When you are a leading provider of B2C and B2B data solutions for agencies, broker, market research companies, enterprise and SME businesses across the UK – serving over 1,000 customers a year – the impression you create online can make all the difference to attracting new customers and reassuring your existing clients.
For this reason, DBS Data who are an Essex company, responsive websites are vitally important to, and they were very keen to bring their internet home in line with the quality of their offering, embracing the new era of digitalisation which has seen the smart phone and tablets become essential business devices.
As is always the case, the fact we have enjoyed a fruitful partnership with DBS Data, delivering graphic design and online marketing solutions for them over a ten year period, was an advantage as we begun planning for their new, responsive website. As with all clients, it is important to understand their brand ethos, and after working with DBS Data previously we already understood their objectives and the image they wish to project.
Potential problems:
We were faced with the challenge of offering customers a more visual and interactive experience, all while simplifying a complex offering and bringing it to life for the benefit of potential and existing customers. This had to be done while respecting the reputation and professionalism of DBS Data as a trusted provider of compliant innovative data solutions.
Solutions:
Sticking religiously to the brief supplied by the client, including their likes and dislikes, we were able to bring their visitor engagement to a new level by creating a fully responsive interface which allows prospects to engage on various platforms including desktop, tablet and mobile. We created a fixed position call back tab, along with social sharing buttons. The new home page features accessible links to the sub pages as well as via the more traditional navigation bar at the top of the page.
We implemented our own business grade managed website hosting to provide maximum up-time and bandwidth and ensure their inbound visitors were engaged and enjoy a responsive browsing experience on the new dbsdata.co.uk site.
In terms of project timelines, we created a schedule to fulfil in a timescale that the client agreed to, and administered a full website testing and evaluation programme before launching the live site, also offering backups and analytics and extra development options.
Conclusion:
We delivered all stages of the production to deadline and took the Essex responsive website live in January 2017, giving the client a new online home that meets all their requirements in terms of; look and feel, responsive website design, user engagement and reliability.