Business owners and entrepreneurs, listen up! A well-designed logo and brand identity can help your business stand out from the competition and make a lasting impression on your customers. They're also useful when creating websites, social media profiles, and other marketing materials.
Here are some logo design tips to keep in mind when designing your next logo.
Designing a logo isn't as simple as it first seems. It takes skill and experience to create a logo that's visually appealing and reflects your brand's essence. If you're not a designer, working with a professional can ensure that your logo is everything it should be.
There are a few things to keep in mind when it comes to creating a logo. First, your logo should be unique and memorable. It should also be simple enough to be easily recognisable, even when seen from a distance. Additionally, your logo should be versatile enough to work well in both digital and print media.
Look at some of the most popular logo design trends for 2022 if you're unsure where to start. From minimalistic designs to geometric shapes, there's sure to be a style that fits your brand. Once you've found a few trends you like, start experimenting with different colour schemes and fonts until you find something that feels right for your business.
Designing a logo is an essential part of any business's branding strategy. By taking the time to create a well-designed logo, you can set your business up for success.
What is a logo?
As a small business owner or entrepreneur, you are aware that your visual identity relies heavily on your logo. It affects how people recognise and remember your business, among other things. But what does a logo do exactly?
A logo 
Identifies your company or organisation 

Represents your brand 

Communicates deeper meaning (for example, Amazon's smiley arrow represents that the company sells everything from "A-Z" and also how happy customers are when they shop with them) 

Is an opportunity to make a statement about your organisation 
Remember, a logo is not 
Your brand 

Your visual identity (which includes your colours, typography, photography, visuals, and layout) 

An indicator of success or failure for your business 
Contact a graphic designer today if you're looking for a professional logo and brand identity design. They can help you create the perfect logo representing your company and its values while communicating to your customers what makes your business unique and successful.

How to design a logo
If you're a business owner or entrepreneur, having a professional logo and brand identity is essential. Here are two things to keep in mind as we delve deeper: 
Lots of strategy goes into design. Yes, you will eventually need to produce something visually appealing. However, a large portion of the effort is strategic, particularly at the beginning. Be prepared to ponder and make decisions more often than you draw. 

You're not merely creating a logo. Keep in mind that the logo is simply a small component of a larger visual system, and all of its parts must function together.
To do this right, you'll want to work in stages. While every designer's process may look different, the one we're going to guide you through is what we use and has five stages: 
1. Discover.
This is where you'll figure out your logo's goals, audience, and brand identity. During this stage, you should be focussing on research and information gathering. 
2. Explore.
Next, it's time to experiment with different ideas and concepts. This is where you'll put your research to work, trying out different logo designs and testing them with potential customers or users. 
3. Design.
Moving on, it's time to start creating the final logo design. This is where you'll take all of your ideas and concepts from the previous stages and turn them into a cohesive logo that captures your brand's identity and goals. 
4. Refine.
Once you've created the logo design, it's time to refine and perfect it. This is where you'll make any final tweaks or adjustments, ensuring that your logo is polished and professional. 
5. Define.
The final stage is about tying everything together and ensuring that your logo will be effective and impactful for your brand. This is when you'll define the logo's look, feel, voice, tone, and style guide so that it can work seamlessly within your more extensive visual system. 
If you're ready to create a professional logo and brand identity for your business, we encourage you to work with a logo designer. With the right process and approach, you can create a logo that truly captures your brand's essence, resonates with your customers, and helps grow your business. So what are you waiting for? Get started today!
Stage One: Discover
Objective
If you're a small business owner or entrepreneur, your logo is one of the most important things you can invest in. It's the face of your company, and it communicates who you are and what you stand for. A well-designed logo can help you make a solid first impression and set the tone for everything else you do as a business.
That's why it's so important to take the time to plan and design your logo and brand identity carefully. During the discovery stage, you'll work with a logo designer to get clear on who you are as a company, what values you stand for, and what goals you hope to achieve. You'll also identify any must-haves or special requests for your logo design.
Considering these things upfront will ensure that your logo is a true reflection of your brand and will help you create a strong foundation for everything else you do as a business.
Process
The first step in logo design is determining why you need or want a new logo. What is the catalyst for this change? Is your business undergoing a rebranding effort? Are you launching a new product or service? Or maybe you feel that it's time for a fresh look. Once you've identified the reasons behind your logo design, you will need to think about the story and meaning behind your company name.
Next, you will want to consider your target audiences, and what kind of visual style resonates with them. Who are your main competitors, and how can you make yourself stand out from them in terms of logo design? 
Once you clearly understand your logo design goals, you can begin to brainstorm ideas and create a logo that truly reflects the essence of your brand. Some key elements to keep in mind include your company values, personality traits, and logo usage requirements.  
There are several tools accessible to assist you in finding and hiring the best logo designer if you're searching for one.
Ultimately, the key is to be clear about what you want and need from your logo design and to find a designer who can help you turn your vision into reality.
When working with a logo designer, be sure to communicate your goals and objectives upfront. Please provide them with as much information as possible about your company, target audiences, and brand personality. The more they understand your business, the better they will be able to create a logo that truly represents your brand. And remember, logo design is an iterative process – don't be afraid to work with your designer to test different concepts and make refinements along the way. You can take your business to the next level with the correct logo and branding strategy!
Deliverable
What is the tone and personality of your brand, and how do you want it to be conveyed through your logo?

What visual considerations are essential to you when designing a logo, such as colour palette, font selection, or imagery?

What is your early vision for the logo design, including any themes or ideas you want to explore?
Once you've answered these questions, you can summarise them in a creative strategy document. This will provide an overview of your business and what you hope to achieve with your logo design. It will also help the logo designer stay on track with your vision and objectives throughout the design process and will allow you to objectively evaluate the final logo design once it's complete. So if you're ready to work with a logo designer that can help bring your vision to life, look no further than Create2Convert!
Stage Two: Explore
Objective
When it comes to creating a logo, it's important to do your research and explore different design options. This means looking at other logos out in the world and getting educated on what makes a great logo. By doing this, you'll be better equipped to create a logo that represents your business well.
In addition to research, it's also important to get inspired by looking at logo designs you admire. This will help you come up with creative ideas for your logo. By taking the time to explore different logo design options, you'll be well on your way to creating a logo that you love. So why wait? Start exploring today!
Process
Let's look at the essential basics - like style, colour, and typography. Our designers recommend learning about colour theory, as different colours evoke different emotions and behaviours. This can help you create the desired emotional response from your audience.
As you begin to gather information about your logo design, start by looking at your competitors and the broader industry. Pay attention not just to logos but also to other branding elements, including websites, social media profiles, and other visual content. Take notes on what stands out to you - both good and bad.
To get even more inspiration, look outside your industry and explore what's trending among design professionals. Some great resources for logo design inspiration include Dribbble, Behance and Brand New, as well as the hashtags #logodesign or related terms on Instagram. Additionally, the website 99designs can be a valuable source of design inspiration for entrepreneurs and small business owners. 
Deliverable
Create a mood board to represent the look and feel of your brand identity.
Include images, designs, colour combinations, photos, illustrations and yes, logos that you feel drawn to. Describe how each board's visual choices express the brand attributes detailed in your creative strategy.
If you're drawn to several design directions, create mood boards for each.
Present these boards to other team members or decision-makers to help narrow them down to one direction.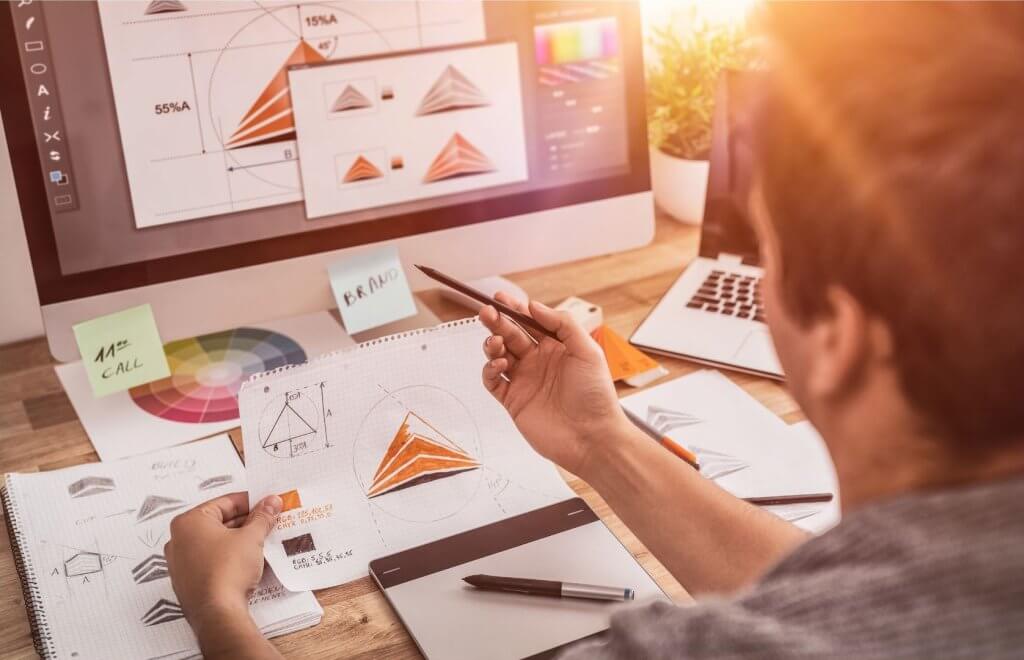 Stage Three: Design
Objective
Finally! Here's what we're trying to achieve: Start developing logo concepts using all of the thoughts and inputs from the first two rounds.
Process
There are several things to take into account while deciding how to create a logo:
Tools
Make sure you have everything you'll need to design before you begin:
A pencil and some paper
It's a good idea to start by sketching some early thoughts. Don't make it too difficult for yourself. Iterative design is a method of creating anything. Create crude sketches of the concepts in your thoughts, even if you don't think you can draw. Your brain will be compelled to think creatively, which is precisely what you require.
Software for vector graphic design
Adobe Illustrator is the industry standard for vector graphics editing software, but it is expensive and isn't always user-friendly. Similar free software like Inkscape and Vectr could be used.
What is the point of vectoring? All logos are vector pictures, which means they're made up of lines determined by mathematical formulas rather than pixels. Modifying and scaling vectors is much easier.
Fonts
The Google Fonts library and Font Squirrel are both free font repositories. Fonts can also be purchased from websites such as MyFonts and FontShop.
Logo design software that is available for free
Many internet tools will get the job done if you're short on time, money, or design abilities. Most of these websites provide customisable templates, which is the quickest method to produce a professional-looking logo. Just be aware that you run the risk of losing your originality.
Not to mention, even if the aforementioned programmes are free, you might need to pay to acquire the finished, scalable vector file.
The top five websites for creating logos online are Hatchful, LogoMakr, DesignEvo Free Logo Maker, Canva Logo Maker, and MarkMaker.
Different types of logos
Whether you create your logo from scratch or utilise a template, familiarising yourself with the seven sorts of logos is an excellent place to start.
Text mark
Some brands choose to highlight the name of their business or organisation rather than using a graphic logo. In this case, typography is important. It must be readable, regardless of the font you chose.
Brand Mark
The visual representation of a logo is a brand mark, also referred to as a "pictorial mark." These images help your audience connect with you right away because they are often recognised. An outdoor outfitter may use mountains, for instance, or a dentist might use teeth.
The name of your business or organisation must initially be combined with a brand mark. But given enough time, the sign might develop into a memorable visual shorthand for a well-known company. 
Combined mark
A text mark and a symbol are combined in this kind of logo to produce the well-known "lock-up" design. Play around with the arrangement of each component until you get a layout that you like. We'll cover this in more detail in the "Define" stage, but in some circumstances you can allow for different combinations of the two.
Abstract logo mark
Abstract logo markings, as the name implies, are less recognised and frequently more geometric. They're ideal for creating something truly distinctive to your company. Again, unless you've established enough brand recognition to let your symbol stand alone, we strongly advocate matching these symbols with your company or organisation's name.
Letter mark
A letter mark, often known as a "monogram" logo, is ideal if your name is long or clumsy. You can either use your initials or a short form of your name. Typography is just as important in a letter mark as it is in a word mark. If you use fewer letters and are less concerned with readability, you can be more creative with your styling.
Mascot
A mascot could be entertaining depending on the character of your brand. Furthermore, they are more versatile than a traditional sign because their expressions and conditions may alter. If you want to create a more serious mood, mascots are not a good option. Simply select a style that matches the idea and emotion you want to get through.
Emblems are logos that have text within a symbol. Emblems, sometimes known as "crests," have a long history and can represent prestige and heritage.
Symbols
You may need to brainstorm if you choose to incorporate a symbol into your logo, whether it be classic or modern. Here are some guidelines provided by our designers on creating a symbol that complements your brand:
Connect the dots. Consider the name of your company or group and jot down as many similar words as possible. We'd write phrases like grow, garden, tree, forest, leaves, branches, greenhouse, and so on, using Sprout as an example. These words bring up various pictures, which might be used as a brand logo. 

Use metaphors in your thinking. This is where the "Discover" stage's questions come into play. Going back to our Amazon example, the smile represents the contentment and happiness of Amazon customers. Consider the impression you want to make on your audience or the point you want to make. Do you have any mental pictures or symbols?

Be as literal as possible. While the most obvious choice was discouraged by our designers, a direct representation of your marketing message is still a possibility. Don't be hesitant to play around with it. Add your own touch to it. Combine a literal symbol with a symbol with greater meaning.

Be unusual. At this point, there are no regulations. Consider every possible outside-the-box thinking. That's where the magic happens most of the time, so the saying goes. Never question something if it doesn't make sense. It could be the secret to discovering the winning idea.

Create, test, then iterate. This procedure can be repeated as frequently as required to constrict your options. Most designers go through a number of stages before they reach the excellent stuff. Iteration is the name of the game. Please remember to ask a buddy for help. Sometimes all you need to become unstuck is a new set of eyes.
If you want to use a text mark or a letter mark, keep in mind the importance of typography. Fonts, like colours, inspire varied perceptions of your brand's personality.
Although fonts come in a wide range of variations, they all fall into one of three families (sometimes referred to as typefaces): serifs, sans serifs, and script.
Fonts with serifs
Small lines or strokes are connected to the end of the bigger strokes in a letter or symbol in serif fonts. These fonts are timeless and a good choice for conveying trust, tradition, and sophistication.
Fonts with no serifs
These typefaces have letters without serifs on them. The outcome is a line that is clean and distinct and that looks sleek and contemporary. Sans serif fonts are the font family of choice for digital since they are simple to read. The best option for a minimalist aesthetic is a sans serif font.
Script fonts are designed to seem like cursive handwriting, giving the impression of a signature. They generally have a more genuine and unique feel to them.
Don't forget to generate, assess, and repeat now that you've learned how to design a logo.
Deliverable
At the very least, you should have one logo design to assess. At this time, it's also customary to have two or three logos to choose from. We'll go over how to analyse your designs in greater depth in the next stage.
Stage Four: Refine
Objective
If you have multiple possibilities at the end of the previous stage, now is the time to limit them down. Have you made up your mind? Great! Let's see how well it works.
Process
Consider the following questions as you evaluate your designs:
What characteristics distinguish a great logo?
An excellent logo is: • simple • memorable • evocative
What will you do with this logo?
Consider both your primary and secondary use cases, such as your website and social media accounts, as well as printed marketing materials, recruitment and event banners and so on.
Don't just think about it. Mock it up on various backdrops to ensure that the image, wording, and overall message are consistent across all platforms. Any logo mark should work in various sizes, but compact digital applications are especially important.
Is the logo able to stand on its own

Aesthetics shift over time. Trends ebb and flow. However, the worth of your logo will only increase with time. Consider whether you think your logo will last 5, 10, 15, or even 20 years.
Take the different aspects of your logo design, such as colours, fonts, and styles, and see how you can utilise them in other places in your use-cases. Also, think about the logo in the context of the rest of your visual identity. This may necessitate the addition of a new workout.
Finally, build a single-colour, black-and-white version of your logo and make sure it can be flipped on dark colours, as one of our designers stressed. If you don't, you may be setting yourself up for future problems.
Deliverable
You should now have a final logo design that you like. And you likely spent a significant amount of time perfecting every detail. Our fifth and final stage will assist you in ensuring that it stays such.
Stage 5: Establish
Objective
Maintaining the integrity of your brand identity depends on quality and consistency. It's important to establish a set of guidelines and standards for using your logo given the variety of locations it will be used and the variety of people who may need to utilise it.
And there's no way to avoid it.
Process
To begin, consider any guidelines for your logo's size, colour, layout, treatment, positioning, and orientation.
Here are some questions to ponder:
• Is there a particular colour palette that your logo should be used with?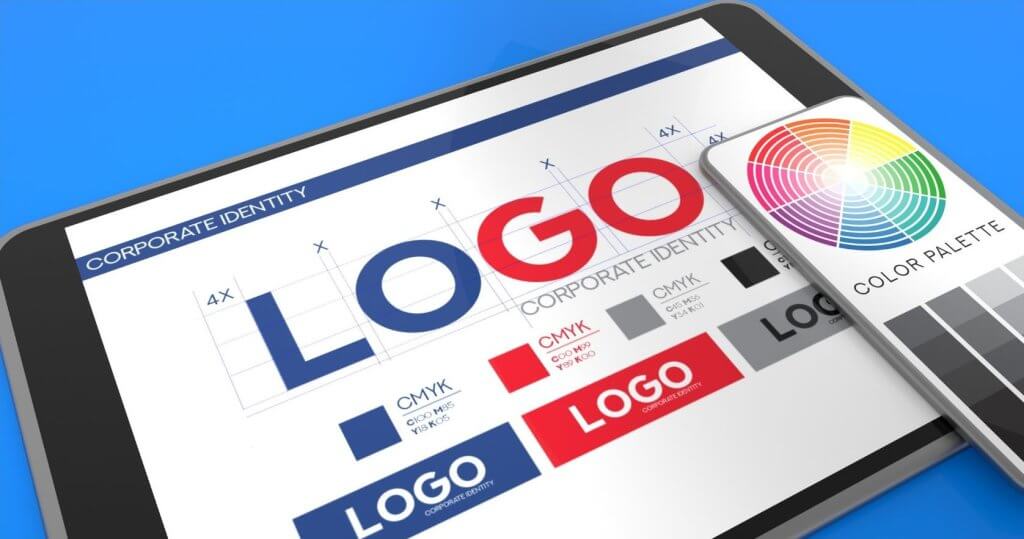 • Is it possible to use your logo on top of photography? If yes, could you adjust the colour to make it stand out more?
If yes, could you adjust the colour to make it stand out more? 
• Can the elements of a combined logo mark be separated in certain situations?
Don't be scared to include certain "never" restrictions to discourage modifications or distortions to your logo to ensure it maintains a powerful impression. Otherwise, you'll end up with a holiday-coloured logo on an email sent to your whole customer base of 10,000.
Deliverable
We have a folder that contains all of our brand, writing, and visual guidelines, as well as the patterns and components our designers and marketers will need to promote our business. This is referred to as a style guide. You can make a style guide as simple or as complex as you like.
You don't have to go to these lengths as long as you ensure they are well-communicated to your staff and freely available to all. Most designers develop a pdf, and their clients upload it to their company's or internal company resource library.
Conclusion
After all that, you might say, "Wow, that's a lot." We appreciate your concerns. We weren't kidding when we claimed that creating a logo takes a lot of time. Weeks are often needed for designers to finish each phase. Our final bit of advise is to take your time. Spend some time completing the exercises that are specified for each stage. How much time and work you put into your design will be evident in the end product.
In the end, it's your employees — not your logo — who create your brand.
I'll leave you with these thoughts from our designers...
"Designing a logo is about finding the right balance between form and function. The best logos are visually appealing and memorable, but also convey the brand's message clearly and concisely."
- Jamie, Graphic Designer
"The most important thing to remember when designing a logo is that less is more. A logo should be simple and clean and incorporate elements that are meaningful to your brand."
- Anna, Brand Strategist
"To create a great logo, you must start with a solid foundation - a strong understanding of your target audience and their preferences. This will help you find the right visual style and design elements that will resonate with them."
- Alex, Creative Director